Patrons
Professor The Honourable Dame Marie Bashir AD CVO
Professor The Honourable Dame Marie Bashir AD CVO served as Governor of NSW from 2001 to 2014 and was the first woman to be appointed to the role. Born in Narrandera in the Riverina district of NSW, and educated at the Narrandera Public School and Sydney Girls High School, Marie Bashir completed a Bachelor of Medicine and Bachelor of Surgery at the University of Sydney in 1956.

Dr Bashir was appointed an Officer of the Order of Australia in 1988 for her services to child and adolescent health, and was invested by Her Majesty, the Queen, with the insignia of a Commander of the Royal Victorian Order (CVO) in 2006.

In June 2014, Her Excellency was named as a Dame of the Order of Australia for extraordinary and pre-eminent achievement and merit in service to the administration, public life, and people of New South Wales, to medicine, particularly as an advocate for improved mental health outcomes for the young, marginalised and disadvantaged, to international relations, through the promotion of collaborative health programs, and as a leader in tertiary education.
Professor Bashir has a strong interest in music and studied violin for many years at the NSW Conservatorium of Music where she experienced the joy of playing in the student orchestra and in chamber music classes. She continues to play a major role in the cultural life of the State, and is also a patron of the Sydney Symphony and Opera Australia. She has been a patron of Symphonia Jubilate since 2015.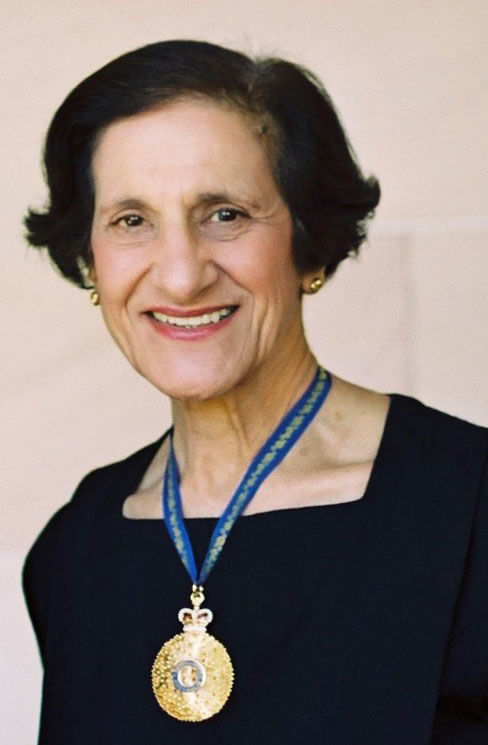 Lyn Williams OAM
Lyn Williams OAM is Australia's leading director of choirs for young people, having founded two internationally renowned choirs: Sydney Children's Choir in 1989 and the national children's choir, Gondwana Voices, in 1997. Under her inspirational leadership, the Gondwana Choirs organisation has grown to include 23 ensembles of the Sydney Children's Choir; five choirs, Composer School and Conducting Academy in Gondwana National Choirs; and, the Gondwana Indigenous Children's Choir, with regional hubs in Cairns and Campbelltown.

Lyn's exceptional skill in working with young people is recognised internationally for its high artistic quality and ground-breaking innovation. She has conducted most major professional choirs and orchestras in Australia, including the Sydney, Adelaide and Melbourne Symphony Orchestras, Australian Chamber Orchestra, Australian Youth Orchestra and Sydney Philharmonia Choirs and has been Music Director and Conductor for a number of major events, including the 2006 Melbourne Commonwealth Games.

Lyn has toured internationally with her choirs, including visits to Europe, Asia and North and Central America. In 2007, she led Gondwana Voices to Canada, France, and London for the BBC Proms, where they were the first Australian children's choir to perform at this prestigious festival. In 2010 the Gondwana Indigenous Children's Choir performed at Australian National Day at the World Expo in Shanghai. Lyn returned to China with Gondwana Voices in 2012 where she was guest conductor and workshop leader at the International Federation for Choral Music's World Choral Summit. In 2013 she led the Sydney Children's Choir to the UK & Europe with performances at iconic venues such as Westminster Abbey, St Paul's Cathedral, and the Palau de la Musica, Barcelona.

In 2004, Lyn was awarded the Medal of the Order of Australia in recognition of her services to the Arts as Founder & Director of Gondwana Choirs. At the 2006 Classical Music Awards she received the NSW State Award for her long-term contribution to the advancement of Australian music. Lyn is a Churchill Fellow and also a composer, winning the 2009 APRA-Australian Music Centre Vocal / Choral Work of the Year for her work A Flock of Stars. In 2015, Lyn was named one of The Australian Financial Review and Westpac's 100 Women of Influence in the category of Culture.

Lyn has been a supporter of Symphonia Jubilate since it's beginnings in 2013. She is a regular attendee at the orchestra's concerts and is a valued member of the SJ community.